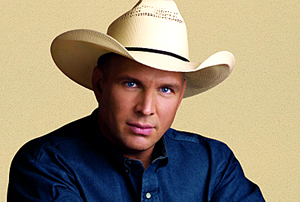 Garth Brooks – Garth is truly one of the nicest guys I know. For the amount of incredible success that has happened to him he is still just one of the guys when we are working together. He is very passionate about his music and we've spent countless hours in the studio having a blast; working on it until it felt just right. He gives us a lot of space to play and really express ourselves. Not only has he been the most loyal artist I've ever worked with, using the same band for 25 years, but he has always been very generous in spreading the "glory" around and shining the spotlight on others instead of himself. When Garth won album of the year, he mentioned all our names on TV, something you don't see many country artists do. A few years ago there was a special show to honor him, Allen Reynolds, and Jim Foglesong (the record label president that signed Garth in the beginning). When Garth did his performance he had us play behind him and instead of spotlighting himself, he spotlighted each of us, mentioning something special we had contributed to his music. Same when he was inducted into the Country Music Hall of Fame, he mentioned all of us players again. These are just a few instances of how he is very gracious. Not to mention all the times he's helped out many folks in need that does not show up in the press. He's a truly humble guy and I'm glad to call him my friend as well as musical compatriot.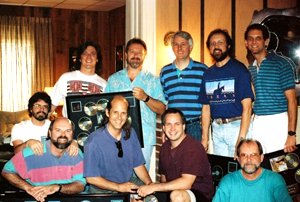 The G-Men – There are seven guys that have been the main players on all of Garth's music. Bobby Wood (keyboards), Milton Sledge (drums), Mike Chapman (bass), Mark Casstevens (acoustic guitar), Bruce Bouton (steel guitar), Rob Hajocos (fiddle) and myself (electric guitar). We've been working together with Garth for over 25 years as well as with many other artists. A few years ago we decided we wanted to come up with a name for the band and we decided on the G-Men. All I can say about these guys is that they are the best and each guy has made some great contributions to Garth's music. We are especially proud of the fact that there was only one song, out of the over 100 that we have recorded with Garth, that we used a click track on. Everything else was just the band grooving. And it's a powerful groove in this band!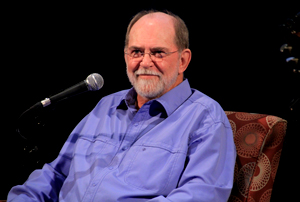 Allen Reynolds – I had the good fortune to meet Allen Reynolds when I was in my 20s and that meeting led to a great friendship as well as 35+ years of making great music. Allen has written many classic songs as well as producing many classic artists. He is known for being a "song man" in the fact that he could really recognize a great song and pair it up with the right artist. He jump started the careers of Don Williams, Crystal Gayle, Kathy Mattea, Hal Ketchum (with Jim Rooney co producing) and Garth Brooks. Allen has been a true mentor to me and was always very patient with me especially in the beginning when I was very new to the studio. He always gave me time to develop my ideas and play them to the best of my ability even if he didn't end up using that particular part. I will always be grateful to him for having faith in me and including me in so many great musical adventures!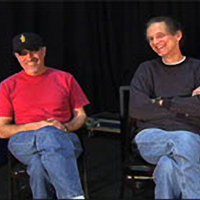 Mark Miller – Mark is a truly gifted engineer who has been Allen Reynolds right hand man for many years. He recorded and mixed all the Garth Brooks albums and CDs as well as many other projects for Allen. We've spent countless hours together working on guitar sounds and tweaking tones. It's been great because working with Allen, Mark and I have always been afforded the time to experiment and work on the guitar sounds till we felt they were just right. And it's been a lot of fun!! We worked on 2″ analog tape for a long time after everyone switched to Pro Tools and Mark's made a million punch ins and outs when there was no "undo" button. Fixing a small piece of something and thereby saving a good performance by correcting small flaw. We've also become really good friends along the way and he's one of the mellowest guys on the planet. Now that Allen has retired Mark is in the production chair with Garth and it's been great working with him in that capacity. He's a guitar player himself and knows guitar so he always makes good suggestions and has great ideas.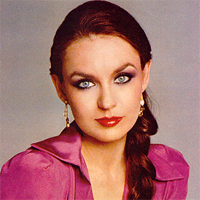 Crystal Gayle – Crystal is one of the best singers I've every heard and a true joy to work with. She can sing any style from country, to rockin', to blues, to classic jazz standards, to pop, and do it all great. We did a lot of live TV shows with her and she always nailed it. And this was long before auto tune and no lip syncing. She just had to sing it! She was always confident and poised. Plus she and her husband Bill Gatzimos were really sweet and very gracious to the band. One time when she was hosting the Midnight Special she even let our back up band, Peace and Quiet play an instrumental i wrote on the show. I toured with her and played on her records for 11 years. For my 10th anniversary they gave me a custom built American Showster guitar which I still have. They are really great folks and it was very grateful to have been included in part of her career.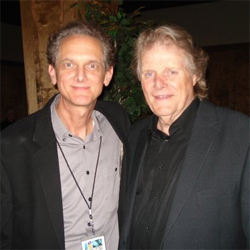 Reggie Young – Reggie is the tastiest guitar player ever and has always been a big influence on me. You can look at his discography online and you will be amazed at the classic records that he's played classic guitar licks on. Very early on, when I landed the road gig with Dobie Gray, I had to learn every lick Reggie played on Dobie's records, including the incredible part he played on "Drift Away". It was like going to session guitar player's college. All about tone, touch, feel, what to play and what not to play, how to work around the vocal, and how sometimes playing something very simple can say more than playing something really fancy or complex. He's also a very humble guy and he's the best!!!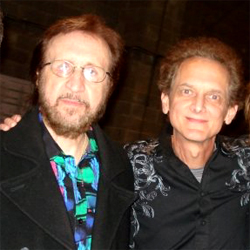 Bobby Wood – I've been playing on records with Bobby since the mid 70s and he's another one of my heroes. And if you look him up online you will also be amazed at the records he has played keyboards on. He played on all of Garth's music and contributed some wonderful parts, classic grand piano intro's, funky wurli, and great synth and B3 parts. He has incredible time and a wonderful groove and many times when we work together I'll just wait to see what pocket he's going to find and join in. He's all about simplicity and groove and not too many notes and has taught me a lot about making the groove count. If you ain't got that you ain't got it! We've become great friends and have had the honor to play in the house band for some awesome shows for the Rock and Roll Hall of Fame as well as the Musicians Hall of Fame. I'm very lucky to have been able to work with him for so many years!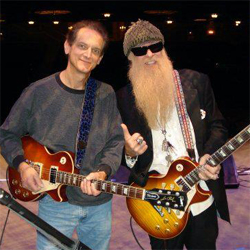 Billy Gibbons – The ultimate hip guitar player with true finesse to his touch. We were going to play the ZZ Top tune "Just Got Paid" and I was a little worried that he wouldn't want me to play as ZZ Top is a trio. But I woodshedded the rhythm part, which is in open G tuning and at rehearsal played it just like the record and he seemed to dig it. Plus, he didn't have a slide with him and asked to use one of mine for the rehearsal and the performance! Playing and hanging with him was a real career highlight.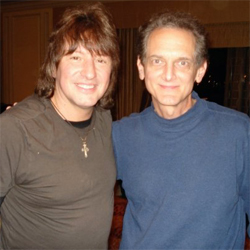 Richie Sambora – A really nice guy and joy to hang with. He and the band mostly talked about how great it is to cook breakfast for our kids and drive them to school. Playing on stage with him was incredible, when he plays the notes explode off his guitar, a real force!!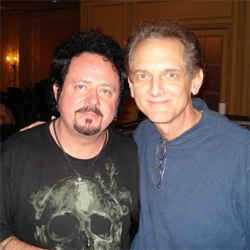 Steve Lukather – What can you say about Steve. He is a one of a kind guitar player. He was very nice and while he's known for using a lot of effects and having a processed tone, at this show he played a Les Paul into a Marshall and it was one of the sweetest tones I've ever heard. The great thing about him is that not only does he burn like no one else, he can really slow it down and just play really beautiful melodies with wonderful soulful bends and great vibrato. When he did the soundcheck at this gig it was truly unbelievable when he started blazing though. Unlimited chops for days!!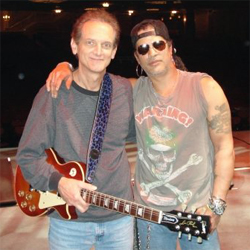 Slash – He was very nice, quiet and reserved. No rock star attitude at all. One of the songs we were doing was an instrumental ballad with a long bass intro and also some harmony guitar parts. He was really surprised that we all showed up ready to play his tune. Bassist Dave Roe had learned the bass intro and I learned the harmonies and we had it on the first fun through. Once again the sound check was unreal as he played chorus after chorus of total shredding, each one building, and no clams. I certainly gained a new respect for him as a player. The other tune we did was a total burner and he totally burned it!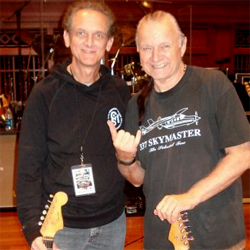 Dick Dale – Dick is the king of the surf guitar and still plays great. He was really fun to hang out with and had tons of stories to tell, including ones about he and Leo Fender designing the dual Showman amp so Dick could have a louder cleaner guitar tone. When he played it was like a tornado and that huge clean guitar just filled the hall. Truly exhilarating. Every time he played the songs at rehearsal and during the show he played them a little different so you really had to be "heads up" and be ready to shift immediately to wherever he was headed.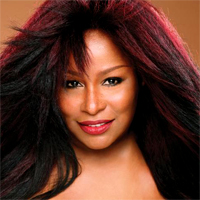 Chaka Kahn – It was a real honor to get to play with Chaka as I've always loved her soulful singing. She was singing two Aretha classics, "Till You Come Back To Me" and "Natural Woman" at a Rock and Roll Hall of Fame tribute to Aretha show. She came to rehearsal after doing a show the previous night, flying all night on a red eye, sat down in a chair just a few feet away from me on the stage, nailed both songs on the first run through, and then just smiled and said "that's it, it's great and we'll do it again tonight". Just one of those moments when it's hard to believe I get to do what I do. And she totally nailed them that night!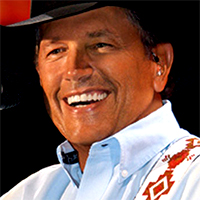 George Strait – I've heard George is a really nice guy and I hope to get to meet him someday. This is one of those situations you have when you are a session player where I've played on a few of his songs, including one #1 hit "There's a Difference In Living and Living Well", but I've never met him. I was always going into the studio with producer Tony Brown and overdubbing on tracks that they had already cut. I've played a song with him live too, and was looking forward to introducing myself, but they had him on a stage in the middle of the room far from where the band was set up so I couldn't meet him then!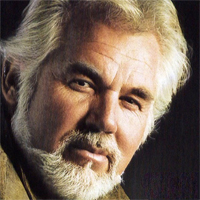 Kenny Rogers – When I played with Crystal Gayle in the 70s and 80s we used to open lots of shows for Kenny. He was in his prime then and the shows were mostly in big arenas with a circular stage in the middle and the band in a pit. Many years later I got to record with him and had one of those situations you have sometimes playing sessions where Kenny was asking me to play a certain way and the producer James Stroud was asking me to do something totally different. What a dilemma! I tried my best to walk the line between both ideas and make both of them happy, but I guess I didn't succeed as when I heard that song on the record they had replaced my part with another guitar player, Brent Rowan. Oh well, I still ended up on many other songs on the record and sometimes you just can't win!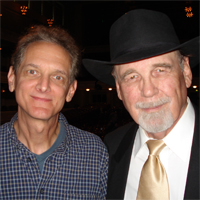 Duane Eddy – Duane is one of the nicest humblest men I've met. I've always loved that big note Gretsch guitar sound he played which created a whole style. There was no acoustic guitar on the songs we were doing with him, and he didn't need another electric part. But I wanted to play with him so bad I asked him if he'd mind if I just added an acoustic rhythm part and grooved along. He said he didn't mind at all and just to join in. It was a great experience playing with a legend.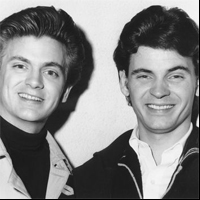 The Everly Brothers – I didn't list Phil and Don in the people I've played with because I never played a gig with them. But when they reunited in 1984 I got to be in their rehearsal band. It was the first time they had sung together in many years and they sounded great together. It was awesome playing all the old classic hits with them as I had been listening to them since I was elementary school. We'd play 3 or 4 songs and they'd want to go round to the corner to a bar and have a couple of beers. Then we'd come back and play some more. I knew they already had a guitarist hired for their tour, which started in England, but since he was over there I got to do the first rehearsals. Quite an experience!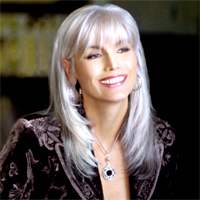 Emmylou Harris – It was a real treat to work with Emmy Lou and I got to do 2 records with her, both produced by Allen Reynolds and Richard Bennett. She was very nice and sort of "one of the guys" when we worked. The songs were so cool and it was so cool hearing that classic voice in the headphones, it really made me play differently than I ever had before. There was one song we did called Jerusalem Tomorrow by Dave Onley, where even though Richard Bennett is a great acoustic player he wanted me to play the part. The song is actually spoken, not sung, so it was just me fingerpicking an acoustic and Emmy Lou reciting this unbelievable song and I felt like I was dreaming. Another pinch yourself moment!! One day not long after we wrapped one of the albums up I was walking down music row and this black Saab pulled up next to me. It was Emmy and she just was stopping to say hello, which I have to say not many artists would do. I'm grateful to have been able to work with her!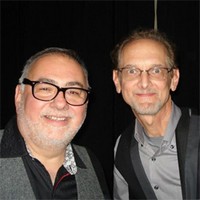 Duke Robillard – I've been a Duke fan for years. Really funky soulful player and singer and it was a thrill to meet him. He was very quiet and reserved and had that really way behind the beat wonderful greasiness to his playing.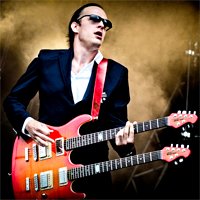 Joe Bonomassa – What can you say, the current reining blues guitar great. I got to play "Oh Carol" with both Duke Robillard and Joe at a Chuck Berry tribute concert and it was a total pleasure to be chunkin' rhythm behind these two great players. Joe plugged a hollow body Gibson straight into a Fender Blues Deville and it was tone and soul for days!!