The Bio
I grew up in West Palm Beach Florida and started playing guitar when I was 9 years old.  In my teens I played in cover bands and club bands playing mostly pop, rock and R&B.  My early influences on guitar were Steve Cropper, Mike Bloomfield, Peter Green, Mick Taylor, Eric Clapton, Dave Mason, and Steve Winwood.  And of course like everyone else The Beatles and The Stones.  I made some brief moves to Washington DC and New York City.

When I was 21 I moved to Nashville to play with some friends in a band.  After the move to Nashville I started discovering country music.  A publisher named Juan Contreras took a liking to our band and started introducing us to some people, one of which was Norbert Putnam who owned Quad Studios at the time.  Through our association with him it led to my first road gig with Dobie Gray in 1974 when his song Drift Away was a big hit.  After our run with Dobie we then started playing on the road with the Canadian Indian artist Buffy Sainte Marieand also became the rhythm section for Cowboy Jack Clement's Ragtime Band. By this time I had started working my way into the recording studio and had started playing on some recording sessions including my first couple #1s with Eddie Rabbitt.

Then I met producer Allen Reynolds and that started a long relationship of making a lot of wonderful music.  Allen started using me on many of his recording projects and has truly been a mentor to me.   One of the artists he was producing was Crystal Gayle.  She was looking for a touring band at the time and Allen recommended that she hire our band to tour with her.  This turned into an 11 year long awesome gig with Crystal.  Right at the time we began working with her, her career took off and resulted in us headlining big shows, traveling to many countries overseas, and doing a lot of TV shows including The Tonight Show With Johnny Carson (3 times), The Midnight Special (2 times, once with Crystal as the host), Dick Clark's Rockin' New Years Eve, and two network TV specials.  In the meantime my studio work was growing.  I was playing on some of Crystal's hits as well as working for many other producers and artists.  In 1988 I decided that I needed to leave the road life and concentrate on my session career.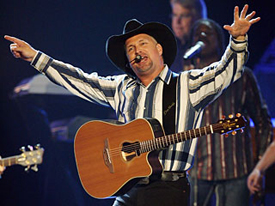 It was not long after that that I got a call from Allen about a new artist he was going to work with named Garth Brooks. We went in and recorded 4 songs with Garth, two of which were If Tomorrow Never Comes and Much Too Young. These initial sessions were just to see if Garth and Allen would jell and make a good team. The label liked those first 4 sides and we got the go ahead to finish an album. And as they say, "the rest is history". Garth's career really took off and he and Allen decided they had a great team of musicians and decided not to change anything so now 25 years later, even though Allen has retired, I am still recording with Garth. I won't mention all the accolades and records broken during Garth's career, as that's documented in many other places. But I'll just say I was truly blessed to be the guy sitting in the electric guitar chair in that band and it's been a wonderful relationship with Garth and an opportunity to make some great music!! And this also led to working with many other great artists.
One of the best things about working in the studio in Nashville is that there are so many great musicians to work with.  I'm very fortunate to be able to play with so many fine players and have been able to maintain a session career for as long as I have.